Chessie Monster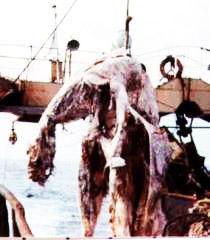 Description
The Chessie Monster can compare Chessie to an anaconda or a python - serpentine, snakelike and dark in color.It looks very dangerous.
Century
This sea monster first exist in 19 th.
Region
Baltimore
Founder
Francis Klarrman and Edward J. Ward
Features
It has a long snake-like creature. The reported length of the monster varies from 25 to 40 feet (12 m) long.
Attacks
Harmfull