NOAA's Oldest Ship, John N. Cobb has Retired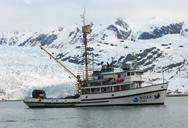 NOAA ship John N. Cobb, the oldest and only wooden hulled ship in the NOAA fleet was decommissioned on August 13,2008 in Seattle after 58 years of service. The 93-foot fisheries research vessel began service in 1950 with the Bureau of Fisheries, predecessor to NOAA's Fisheries Service, conducting albacore tuna surveys in Oregon, Washington, and Alaska. Homeported in Seattle, Cobb has operated primarily in Alaskan waters for much of her service life, most recently in support of the fisheries service's Auke Bay Laboratories in Juneau.
"The John N. Cobb has been an extremely productive platform for NOAA. She has been operating with her original 1931-design Fairbanks-Morse engine until this year," said Rear Admiral Jonathan W. Bailey, director of the NOAA Corps, one of the nation's seven uniformed services, and NOAA's Office of Marine and Aviation Operations. "We are sad to see Cobb go, but it would not be the best use of NOAA's resources to perform the maintenance and repairs required to keep her in service.
John N. Cobb was designed as a purse-seiner, but added capabilities enabled her to utilize almost every type of fishing method, including trawling, and long-lining. The ship has conducted various types of data acquisition and research, including juvenile salmon marine ecology, juvenile rockfish habitat assessment, sablefish tagging and telemetry, marine mammal surveys, coral and sponge benthic habitat, habitat mapping of near-shore estuaries, and oceanographic sampling and long-term coastal monitoring.
Cobb's career has included some interesting and unusual missions:
From 1950 to 1962, Cobb conducted a series of bottomfish and shellfish surveys from southern Oregon to the Arctic Ocean. These early surveys still provide baseline data for current environmental evaluations
Cobb helped pioneer the use of surface rope trawls, which led to the development of an important long-term data set on the biological and physical factors affecting annual fluctuations in the population strength of specific groups of salmon.
John N. Cobb's post-NOAA home has yet to be determined. Preliminary plans are underway by maritime heritage interests to preserve Cobb as an historic representation of a federal wooden-hull fisheries research vessel and open her to the public as part of an education-outreach program.
As part of the fleet of NOAA research and survey ships and vessels, John N. Cobb has been operated, managed and maintained by officers of the NOAA Corps and civilians under NOAA's Office of Marine and Aviation Operations.