Gelatinous Blindfish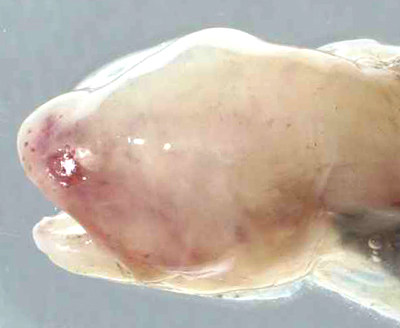 Common Name: Gelatinous Blindfish
Scientific Name: Aphyonus gelatinosus
Description
The Gelatinous Blindfish has a white jelly-like body. The dorsal and anal fins are continuous with the caudal fin. Like all aphyonids, the Gelatinous Blindfish has tiny eyes. It lacks scales, swim bladder and pyloric caecae.
Size
It grows to 15 cm in length.
Location or Region Found
The Gelatinous Blindfish is a benthic species that occurs below tropical and subtropical marine waters of most oceans. It is found at depths from 900 m to over 5000 m.