Lernaean Hydra Monster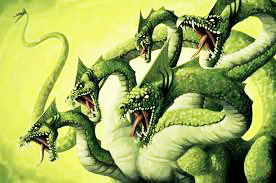 Description
The Lernaean Hydra Monster was the offspring of Typhon and Echidna. It is the most dangerous creature. It targets by his breath. If its breath touches a human, it kills on the spot of his poisonous nature.
Century
This sea monster first exist in 15 th.
Region
Greece
Founder
Conrad gesner
Features
It has 9 heads, if one head get destroed,two appears from same place.
Attacks
Sailors