Deepseawaters Calendar
The last month of peak Great white shark sightings in the South Farallon Islands, Gulf of the Farallones.
Monitoring continues in the intertidal zone at S.E. Farallon Island, Gulf of the Farallones National Marine Sanctuary.
Along with juveniles, North Atlantic right whale pregnant females arrive off Georgia's and north Florida's coasts to birth their calves in relatively warm waters. Right whales frequent the waters around Gray's Reef National Marine Sanctuary during the winter months. Aerial surveys are flown daily during this time to pinpoint the location of the whales and to make counts. Gray's Reef Sanctuary is a part of the aerial survey area.
Humpback whales are departing for the warmer waters of the West Indies, particularly around the Dominican Republic and its Silver Bank Humpback Whale Sanctuary. in the Pacific Ocean, humpback whales begin arriving in Hawaii for birthing and mating. (Past sightings of a singular mother/calf pod have occurred in October).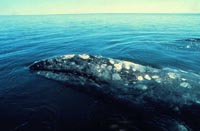 Gray whale southern migration occurs in the Olympic Coast National Marine Sanctuary.
A second rise of palolo will occur in November in the Fagatele Bay National Marine Sanctuary if the October rise was early in the month. Palolo are an annelid polycheate worm that extrudes and releases its motile gonads at a predictable time once a year one week after the October (and sometimes November) full moon.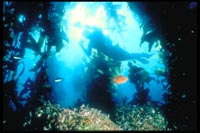 First of big winter storms arrive from Gulf of Alaska, large swells and turbulent conditions prevail in the Cordell Bank National Marine Sanctuary. Lingcod spawn, males aggressively protect adhesive egg masses on shallow rocky reefs, making them extremely vulnerable during this time.
The winter months are excellent for tide pooling in the Channel Islands National Marine Sanctuary because afternoon low tides expose marine algae and invertebrates. The low tides continue though the winter months into February.
Temperatures begin to cool in the Channel Islands. Winter storms roar through the area.
Jellies of all kinds are abundant in California coastal waters as the oceanic season begins and upwelling winds start to relax (August through November).