Bay of Fundy
The Bay of Fundy is lies on the Atlantic shore of North America and at the northeast end of the Gulf of Maine between the Nova Scotia and Canadian provinces of New Brunswick. The Bay of Fundy is famous for high tidal range and the bay is elected as having the highest vertical tidal range in the world. Baie Française (French Bay) was another name for Bay of Fundy; the Bay is located in a rift basin called the Fundy Basin.
Geology
The upper portion of the bay bifurcates, divides into Chignecto Bay in the northeast and the Minas Basin in the east. Chignecto Bay is again divided into Shepody Bay and Cumberland Basin and the great eastern part of Minas Basin is called as Cobequid Bay.
The lower portion of the bay has four significant sub-basins: Passamaquoddy Bay and Back Bay on the New Brunswick coast, Annapolis Basin on the Nova Scotia coast and the Cobscook Bay on the Maine coast.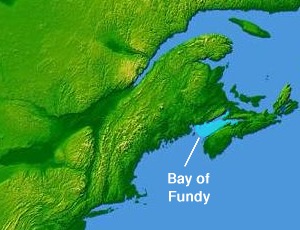 Islands: Among several islands in the Bay, the major and largest is Grand Manan Island lies at the border of the Gulf of Maine. Campobello Island, Moose Island, and Deer Island in the Passamaquoddy Bay area are the other major islands on the north of the Bay; the southern part of the Bay has Brier Island and Long Island.
List of Seas in Atlantic Ocean