Davis Strait
Davis Strait is the broadest strait in the world, lies north of the Labrador Sea and is located between mid-western Greenland and Nunavut, Canada's Baffin Island. It was named after the English explorer John Davis (1550-1605), who explored the region while looking for a Northwest passageway.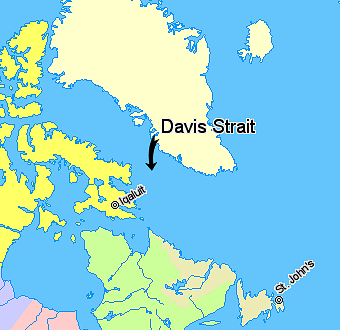 Geography
It has composite geographical features of hidden grabens (basins) and ridges which are formed by strike-slip faulting. The strike-slip faulting changed the plate-tectonic motions of Labrador Sea to Baffin Bay. The water depth of the Sea ranges between 1 and 2 thousand meters, which is considerably shallower than the Sea on the south.
The Davis Strait is well-known for its violent tides; its range varies from 30 to 60 ft (9.1 to 18 m).
List of Seas in Atlantic Ocean