Mediterranean Sea
The Mediterranean Sea is a part of Atlantic sea that is bounded by the Mediterranean region and is connected to the Atlantic Ocean. Occasionally it is called as the Eurafrican Mediterranean Sea or the European Mediterranean Sea. The sea is almost wholly enclosed by land on the north by Anatolia and Europe, on the south by Africa, and on the east by the Levant.
Geography
The Mediterranean Sea is connected to the Atlantic Ocean by the Strait of Gibraltar on the west, and to the Sea of Marmara by the Dardanelles and to the Black Sea by the Bosporus respectively, on the east. The Sea of Marmara is usually considered as a portion of the Mediterranean Sea and the artificial man-made Suez Canal in the southeast (163 km) bonds the Mediterranean Sea and the Red Sea.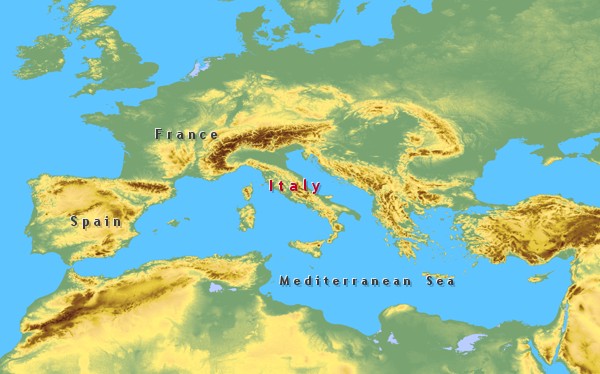 It covers a rough area of about 2.5 million km² (965,000 sq mi), but the connection to the Atlantic sea is only 14 km (9 mi) wide. The average depth of the sea is approximately 1,500 meters (4,920 ft) and the maximum deep point is about 5,267 meters (about 3.27 miles) in the Ionian Sea.
It was an important route for merchants and travelers of ancient times that allowed for trade and cultural exchange between emergent peoples of the region - the Mesopotamian, Egyptian, Phoenician, Carthaginian, Greek, Illyrian, Levantine, Roman, Moorish, Slavic and Turkish cultures.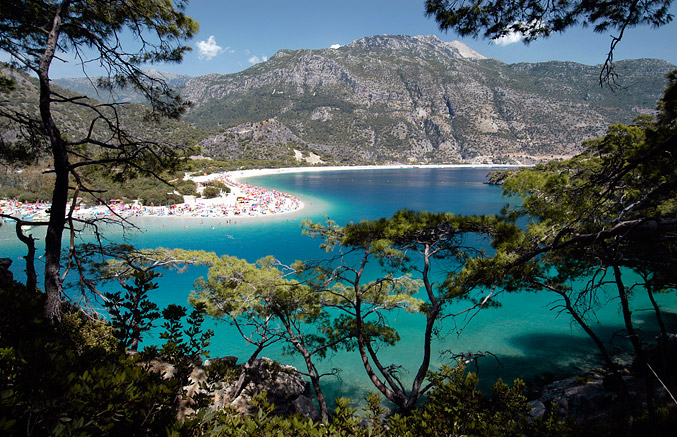 Naming: The sea name is derived from the Latin word mediterraneanus which means "inland" or "in the middle of the earth" (from medius, "middle" and terra, "earth").
Cyprus, Crete, Euboea, Rhodes, Lesbos, Chios, Kefalonia, Corfu, Naxos and Andros in the eastern Mediterranean are the large islands that lie in the Mediterranean.
Climate: The climate is a typically hot and dry in summers, and mild and rainy in winters. Olives, grapes, oranges, tangerines, and cork are the common crops of the region.
List of Seas in Atlantic Ocean