North Sea
The North Sea is a marginal sea that lies on the European continental shelf. It is connected to the Atlantic Ocean by the Norwegian Sea in the north and the Dover Strait and the English Channel in the south.
Geography
The North Sea covers an area of about 750,000 square kilometers (290,000 sq mi) and a volume of about 94,000 cubic kilometers (23,000 cu mi) and it is more than 970 kilometers (600 mi) long and 580 kilometers (360 mi) wide. On the boundaries of the North Sea, there are many islands and archipelagos, like Shetland, Orkney, and the Frisian Islands. The Sea collects freshwater from many continental watersheds, as well as from the British Isles island watersheds.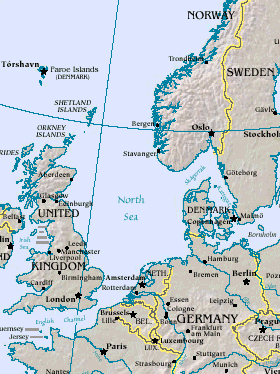 The North Sea is surrounded by the Orkney Islands and east coasts of England and Scotland to the west and the north and central European mainland to the east and south and also by Norway, Denmark, Germany, the Netherlands, Belgium, and France. The North Sea changes to the English Channel linking to the Atlantic Ocean, in the southwest and it bonds to the Baltic Sea through the Skagerrak and Kattegat, in the east and it is linked with the Norwegian Sea and surrounded by the Shetland Islands, in the north.
Resources: The traditional activities such as fishing and shipping are common in the Sea. Fossil fuels and wind and wave energy are some new resources developing here.
List of Seas in Atlantic Ocean