Tyrrhenian Sea
The Tyrrhenian Sea is a part of the Mediterranean Sea lies at the western coast of Italy. The Sea is surrounded by Corsica and Sardinia on the west, Tuscany, Lazio, Campania, Basilicata, and Calabria on the east, and Sicily on the south. The greatest depth of the Sea is 3,785 metres (12,420 ft).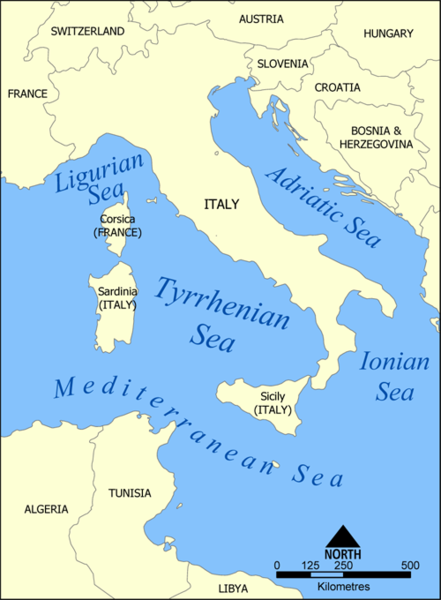 The Tyrrhenian Sea is located close to the African-European Fault and so mountain chains and Mount Marsili, active volcanoes are found. The eight Aeolian Islands are situated in the south of the Sea. The Sea is categorized into two plains the Vavilov plain and the Marsili plain, the categorization is based on the submarine ridge called as the Issel Bridge.
Five channels leaves from the Tyrrhenian Sea: the Corsica Channel lies between Tuscany and Corsica which is about 80 km wide, the Strait of Bonifacio lies between Corsica and Sardinia is of 11 km wide, the Sardinian Channel is located between Sardinia and Tunisia is about 200 km wide, the Strait of Sicily is between Tunisia and Sicily, measures about 160 km wide and the Strait of Messina lies between Sicily and Calabria 3 km wide.
List of Seas in Atlantic Ocean