Adriatic Sea
The Adriatic Sea is a part of sea Atlantic Ocean that separates the system of the Apennine Mountains from the Dinaric Alps and adjacent ranges and the Italian Peninsula from the Balkan Peninsula.
Geography
The eastern coastline runs along Croatia, Montenegro, Albania, Slovenia and Bosnia and Herzegovina (26 km), while the western coast is Italian. Reno, Po, Adige/Etsch, Brenta, Piave, Soca/Isonzo, Zrmanja, Krka, Cetina, Neretva, Drin (Drini) are the major rivers joining the Sea.
Coasts and Islands
The west coast is generally low, integrating, in the northwest, into the marshes. The east shore is normally bold and stony, with many islands. The largest island in the sea is the island of Cres, which is slightly larger than nearby Krk.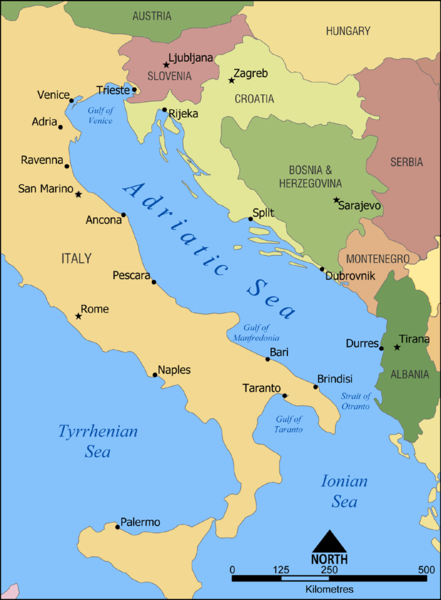 The long and narrow islands rise rather suddenly to the height of a few hundred feet, except few larger islands like Brac or the peninsula Peljesac. There may be more than a thousand islands in the Adriatic, among them 66 are inhabited.
Trieste, Ravenna, Rimini, Ancona, Pescara, Bari, and Brindisi are some of the famous cities on the Italian coast.
Weather patterns
Bora, Northeast wind and southeast parts are danger to navigate in winter. Southern wind Sirocco brings rain in the winter and western wind maestral brings tranquil weather in the summer. This area is well-known for occasional waterspouts.
List of Seas in Atlantic Ocean