Greenland Sea
The Greenland Sea is the northernmost part of the North Atlantic Ocean which lies immediately south of the Arctic Ocean.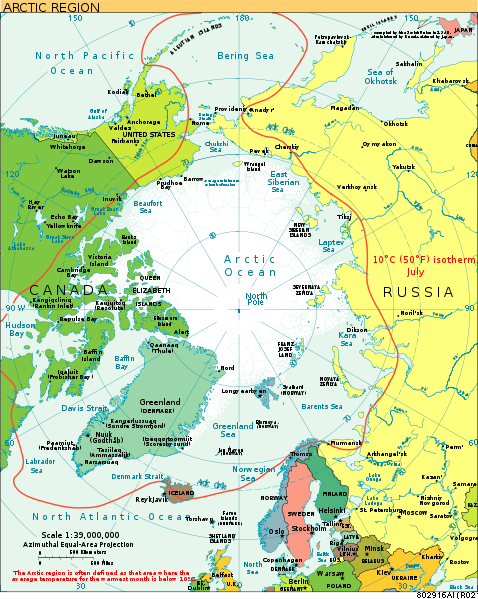 Climate
In winter, air temperature reaches -49 C (-57 F) off Spitsbergen. While in summer, air temperature will be 25 C (77 F) off Greenland. In the month of February (Coldest month), averages are -10 C (14 F) in the south and -26 C (-15 F) in the north. In August month (Warm month), average will be 41 F (5 C) in the south and 32 F (0 C) in the north. When the temperature rises more than 0 C, it varies between south (225) and north (334). In February month, water temperature rises 30 F (-1 C) in the north and 1-2 C in the south. While in August month, it ranges from 43 F (6 C) in the south and 0 C in the north. Color of water is Green.
Islands:
Edvards
Elia
Godfred Hansens
Jan Mayen Lynns
Svalbard archipelago
Schnauders
le-de-France
Fauna: The Greenland Sea is richly populated by the organisms that form the base of the oceanic food chain. Large invertebrates, birds, fish (such as cod, herring, redfish, halibut, and plaice), and mammals (including seals, whales, and dolphins) all feed on the smaller invertebrates and small organisms.
Geography
Greenland Sea is surrounded by the island of Greenland to the west and by the Denmark Strait and Iceland to the south. It covers about 1,205,000 square km (465,000 square miles). The average depth is close to 1,450 m (4,750 ft). The deepest point of the Sea is recorded as 5600m and has been found at Molloy Deep, in the Fram Strait between northeastern Greenland and Svalbard. To the southeast, the vast expanse Norwegian Sea lies behind the Jan Mayen Island, of which Greenland Sea may be considered an extension.
In the summer the average air temperature is from 0C to 2C (4C in the South), and in the winter it reaches up to -30C.The northern part of the sea is mostly covered with ice. The eastern coasts have some terrain and hills, but the western coasts are mostly low-lying and covered with tundra, marshes and multitude of small lakes.
Islands: The Sea has no islands in the middle, but there are a few islands and island groups in its coastal waters, such as Ayon Island and the Medvyezhi island group.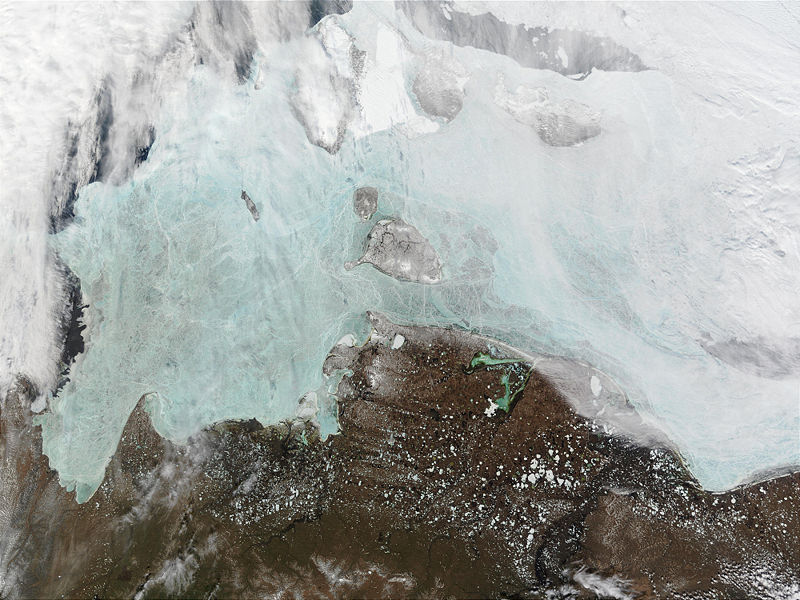 The Indigirka, the Alazeya, The Ujandina, the Chukochya River, the Kolyma, the Rauchua, the Chaun, and the Pegtymel are the most important rivers flowing into East Siberian Sea.
List of Seas in Arctic Ocean